I've been spending a lot of time shopping around online for new living room furniture and I thought it would be a great idea to come up with essentially all the pieces you would need to create an industrial living room!
*Disclaimer: Remember this is my personal take on industrial design. Obviously it could go a lot more hardcore, but I'm going to make this an attainable living room for someone who doesn't live in a loft. Also keep in mind that you do not need these exact pieces. Use this as inspiration for your own living room!
The Sofa
Ok, so you might not see a green leather couch and think "industrial living room" but, trust me. It's a step away from the typical black leather couch that you might first think of when considering industrial style. This couch also comes in a beautiful camel color that I think would also be perfect for an industrial space.
The Armchair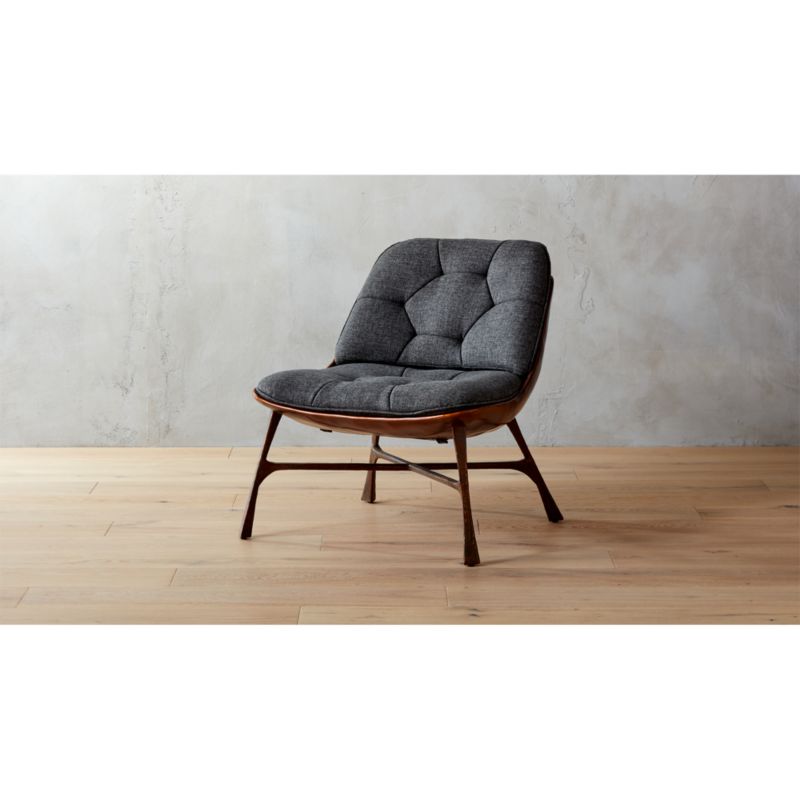 When searching for an armchair to compliment a leather couch, you typically would not want yet another piece of leather furniture. In order to add visual interest and to make the space not so cold, different fabrics are needed. I selected this armchair because of the unique shape, metal body, and grey upholstery. I don't think that anything would go with the green leather quite as well unless perhaps it were black. I really would not go for anything lighter than this color. You may be questioning the style of this chair. Yes, I believe that this is more of a midcentury-style chair, but I still find that this goes well with the sofa and overarching theme. A metal chair would also be nice, but you must be careful with this because things can get very midcentury, very quickly.
End Table and Lighting
(Find the End Table Here and the Lamp Here)
The above end table may be placed on one end of the couch, while the floor lamp would be placed on the other end. I believe that using this combination is much more effective in obtaining an industrial feel than having two matching end tables. Remember that you can mix up what you use as an end table. The one above reminds me of many industrial bar stools that I have seen with adjustable heights.
I would likely change the standard lamp shade of the floor lamp as I believe this to be too warm for the space. Consider a white or gray linen shade.
(Find the Left Accent Light Here, Center Lamp Here, Right Lamp Here)
I was conflicted as to how we should decorate the end table, but I believe an accent light would be most ideal. Of course you can't go wrong with some Edison bulbs either!
Area Rugs
(Find the Left Rug Here, Center Rug Here, Right Rug Here)
I believe that all of the above rugs would work well in this space. My number 1 preference would probably be the Pixel Rug on the left. I love the combination of grays that tie the arm chair in with the rug. An important concept to remember while putting together this room is the 60-30-10 design "rule". Of course there are no steadfast rules when it comes to design, but this is a good one to go by. Right now, the majority of the room is gray, but the couch added a touch of green color. Metals and wood will also contribute to the design concept.
Shelving and Media Console
(Find the Left Media Console Here, Center Bookcase Here, Right Media Console Here)
Next comes some more large pieces. I think every room needs a bookcase, so let's start off with that. The center Edison bookcase that I've selected fits perfectly with our other accents. The dark, rich shelving pairs nicely with the dark metal frame, and the foot rail on the bottom adds a nice touch to the bookcase. I have seen bookcases like this available at a wide range of stores. I also love the bookcases that come with a latter attached.
Now let's be realistic; we both know there's going to be a TV in the living room. Yes, the media console idea is not very creative, but I love these two pieces. Not only are they obviously stable enough to hold your TV, but the clear doors on each allow you to decorate the inside of the consoles with more finds without adding clutter.
Coffee Tables
(Clockwise From Top Left: Picture 1, Picture 2, Picture 3, Picture 4)
Coffee tables can go a few different ways for this look and depending on the size of the room. The ones I've selected all have one thing in common: they are elevated from the ground. I believe it is important to include this factor in order to make the room appear larger. That being said, if you have a large room and subsequently, you selected a larger rug, it would be a nice added touch to use a vintage chest as your coffee table.
As you can see, I have included coffee tables with a mixture of wood, metal, and glass. I also do not think that the shape of the table necessarily matters. Since most of the objects in this room are quite linear, a circular table might be nice to balance that out, though a standard, rectangular table is consistent with the design.
Coffee Table Accessories
(Clockwise from left: Tray Here, Decor Piece Here, Cloches Here, Parks Book Here
,
What you put on top of your coffee table is just as important as your actual coffee table. A properly accessorized coffee table can add to the finishing touch to your space. For our coffee table, I was thinking a nice tray, coffee table books, and accessories would be perfect together. Now, many of the coffee tables that I selected had multiple tiers. When this is the case, you do have to consider what you would want to put on each level.
Let's consider table number three of the above coffee tables. The glass top is beautiful and adds airiness to the space. The glass is a great touch but it does mean you have to really make your accessories cohesive. You can decorate however you want but, personally, I think a nice tray on the bottom tier with a few coffee table books would work well. On the top tier I would then place a few miscellaneous pieces of home decor such as the above decor piece and print press.
Choosing coffee table books can seem like an easy enough task; just find something pretty and big, right? But you have to remember that since you're not actually going to be picking up the books probably more than once per year, their purpose is decorational. With that said, the coffee table books can help keep your color pallet cohesive. What the book is about does not have to have anything to do with the style of the room. Get a book on a subject you like, just make sure that the color of the cover is in keeping with the colors of your room. I searched for large, green-tone books but could not really find anything online. This may be something that you have to search for at a bookstore.
Other examples of decor items on your coffee table can include candles, small plants or flowers, bowls with vase fillers, etc. Just keep in mind who will be around your table and what the style of the room is. Don't just buy something because it's pretty, make sure it goes with your room. And if you have dogs or small children, don't get something that can break easily or break your coffee table if knocked over.
Throw Pillows
(Top Row From the Left: Pillow 1, Pillow 2, Pillow 3
Bottom Row From the Left: Pillow 1, Pillow 2, Pillow 3)
Throw pillows are without a doubt one of my favorite room accessories. Forget the fact that they add so much comfort to nap time, pillows are an easy way to swap out colors and patterns in your space. For our living room, pillows are going to be essential for adding style and making industrial style a little bit cozier. The top pillows are really all great additions to our green sofa. While choosing the throw pillows, definitely wanted to add different fabrics to the sofa area to make it more inviting. Of course mixing gray  and geometric designs is a nice way to tie the couch in with the armchairs and rug.
Now envision the grey pillows on either end of the sofa, the long pillow in the middle, and the bottom left, camel-colored pillow added on to the couch. This would be optional, but layering the pillows would look very nice and the pop of camel would add a little something new to the space, though I believe it is still suitable because it is a warm, earthy, almost wood tone.
As for the armchairs, I debated back and forth on whether they should have pillows. In my opinion, they are not necessary depending on the size of the chair. If you have small armchairs, opt out of placing a throw pillow on it because it will make it too hard to sit on comfortably anyway. However, for our room, I thought adding a muted green pillow or brown leather pillow to the armchairs would help to tie the space together.
Wall Decor
(Top Row: Picture 1, Picture 2, Picture 3
Middle Row: Picture 1, Picture 2, Picture 3
Bottom Row: Picture 1, Picture 2, Picture 3)
Ah, wall art. One of the last things usually added to the room, but it makes such a big difference. I honestly had a hard time thinking of creative wall art for an industrial space. Yes, you could choose some kind of metal art or a picture of a city or bridge. You can do that if you want. I personally thought that that would be a bit too cliched, so I opted for some black and white art. Now you do not have to keep with this color pallet. This would be the perfect opportunity to add in touches of greens to our space. Note picture one on the middle row. I love this piece of art because of its subtle use of colors. Not too dramatic and something that could be used in an industrial, midcentury, or eclectic space.
Bottom Row: Map 1, Map 2, Map 3)
Ok, so I went a little bit more cliche by suggesting maps. I just can't help it, ok? To me what sets these maps apart is that they are more unique. Yes, they are all from Restoration Hardware so naturally the price is a bit high, but I love that these are pieces that not everyone would have in their home. Using maps as decor offers two experiences when viewing them. The first is from far away when you casually observe the room. Because the maps have such fine print, they take on the look of art from a distance. Approach the maps and you then get a second experience.
Mirrors
(Top Row From the Left: Picture 1, Picture 2, Picture 3
Bottom Row From the Left: Picture 1, Picture 2)
Time for some mirrors! I love, love, love decorating with mirrors in any space. I do believe that especially in an industrial space, mirrors are necessary for added visual interest and use of light. Position a mirror by a window and use it almost as art. It will reflect back to you what is outside your window and act as ever-changing art work. One of my favorite mirrors above is picture three on the top row. I love that this is not a standard mirror and that it really does act more like art. Yes, the accent color is not in the green family, but I love the pale blue.
Miscellaneous Accessories
(Top Row From the Left: Picture 1, Picture 2, Picture 3
Middle Row From the Left: Picture 1, Picture 2, Picture 3
Bottom Row From the Left: Picture 1, Picture 2, Picture 3, Picture 4)
Now for the final touches. After you have selected and placed your furniture, rug, lighting, and pillows, it is now time for the finishing touches. Use books such as those on the final row of pictures to fill up your bookcase and entertainment center. Add the Edison bulb cloche from the bottom row into your bookcase for added visual interest. Clear picture frames with a gunmetal finish such as those in the second picture of the middle row. Place a textured throw onto your couch or in a lovely metal basket. Keep a collection of throws if you like. This is yet another chance to add a splash of color to your space if you wish, and best of all, you can swap it out whenever you wish.
___________________________________
I hope that with all of these pictures you have become at least a little bit inspired to go industrial. It's not for everyone, but when done right, an industrial style does not have to mean a cold style. Use dark metals, woods, and leathers to create a warm, industrial look.
Check out my Masculine Office Guide for more industrial pieces and inspiration! Look out for more room ideas in the future! Have a suggestion for me? Comment below!